The Next Generation Toxicologic Pathologist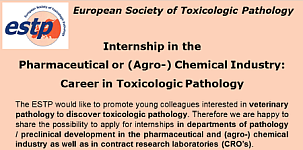 (click on image to read the document)
Who we are
Toxicologic pathologists at (bio) pharmaceutical / biotechnology / chemical industry in Germany, France, Switzerland, UK, Denmark, Netherlands, Italy, Belgium, Finland, Sweden, Czech Republic, Hungary, Portugal, Romania, Spain…
What we do in the pharmaceutical and chemical industry
We are an integral part of medical research and safety evaluation by interpreting efficacy and safety studies based on internationally approved study designs by e.g. EPA, FDA, JMAFF, OECD, including stringent requirements on animal welfare. One example is the current European initiative REACH to identify and address data gaps in toxicological knowledge about every chemical currently on the market in Europe
We are contributing to preclinical regulatory and early research studies:

determining efficacy endpoints and mode of action
identification of target organs/ -tissues in early phase drug candidates
safety assessment of promising drug candidates and chemicals
Job and internship offers
60% of the toxicologic pathologists in Europe will retire within the next 15 years
40% will retire within the next 10 years
See here for current open positions.


What we offer
Working in a team
International environment
Compatibility of family and career (e.g. home office, flexible working time, reduction of working hours)
Competitive salary
Professional and personal development
Continuing education
What is the (daily) business of a toxicologic pathologist - depends on the job position
Scientific evaluation and interpretation of histopathological pathology data within drug development, investigative / mechanistic toxicity studies, carcinogenicity studies

Species: rat, mouse, dog, rabbit, minipig, non-human primate, fish
Samples: broad organ spectrum (approx. 45 tissues per animal)
Questions: target organs, pathogenesis, dose dependency, toxicologic relevance of findings
Assay: semi-quantitative (grading) diagnostic using standard HE slides, image analysis, special stains, immunohistochemistry, in-situ hybridization
Approach:

Comparative slide reading of treatment groups vs. control group
Mostly organ/tissue based

Writing reports that will be used for the registration process with various regulatory bodies
Performing pathology peer reviews (evaluation of reports from external partners)
Understanding, reviewing and reporting clinical pathology data
Author scientific manuscripts and give presentations
Providing scientific contribution to a broad range of activities in teams from early discovery through late stage development including project management
Responsibility for technical quality, resource planning, project deadlines and follow-up of costs
Attend scientific meetings and continuing education seminars
Working under "Good laboratory practices" (GLP) conditions means

All procedures are described in detail in standard operating procedures (SOP)
All activities are guided by a study protocol
Documentation of all procedures
Qualification of personnel
Archiving of raw data
Audits by internal quality management
Audits / inspections by authorities
Skills / experiences considered important for young toxicologic pathologists
Pathology (necropsy, histopathology)
Toxicologic and pharmacologic pathology
Basic toxicology, laboratory animal science and animal welfare
Clinical pathology
Written and verbal presentation of pathology data
Scientific and technical expertise in immunohistochemistry, in-situ hybridization and new technologies including molecular biology ("-omics")
Digital pathology (slide sharing, annotation, machine learning, image analysis)
Proficiency in written and spoken English
How to become a toxicologic pathologist – you can apply after each qualification step, companies may ask for different levels of education and experience
University degree in veterinary / human medicine or equivalent
Postgraduate scientific degree (ideally in the field of pathology): Dr. med. vet. / PhD
Specialization in pathology / toxicology include

National (postgraduate) certificate in (veterinary) pathology e.g. in France, UK, Germany, The Netherlands and other countries
International postgraduate qualification in pathology
See here for current open positions.


Educational options
Available training options (selection)
Recommended journals
Attending meetings and congresses see Calendar
Further qualification steps / registration options as toxicologic pathologist
Certifications recognized experts in Toxicologic Pathology:
International registration / qualification in toxicology or laboratory animal medicine
Contact
Finding a new position relies on the networking and the personal contact between employers and candidates - involvement of professional recruiters and internet platforms are far less important
Just curious? Any questions? Please don't hesitate to contact us. The Councillor for Residents and Early Career Pathologists is looking forward to answering your questions and provide you with personal contacts for discussions, informal visits and practical times.
ACVP: American College of Veterinary Pathologists
ECVP: European College of Veterinary Pathologists
EPA: United States Environmental Protection Agency
FDA: Food and Drug Administration
JMAFF: Japanese Ministry of Agriculture, Forestry, and Fisheries
OECD: Organisation for Economic Co-operation and Development
REACH: Registration, Evaluation and Authorisation of Chemicals